Claims Management Made Easy!
ClaimsWire™ is Simsol's web-based solution for the electronic assignment, tracking and exchange of property claim data for the insurance industry. Insurance carriers, adjusting firms and contractor networks (i.e. assignment originators), with the capability of web-services, output the first notice of loss and assignment information in a pre-defined WSDL data packet to ClaimsWire. First Notices of Loss may also be manually entered into the system. All participants in the claim life cycle are monitored for timeliness of reporting and automatically contacted by ClaimsWire if any days of service requirements or other claim handling milestones are upcoming or late.
The ClaimsWire Dashboard
As a manager logging into ClaimsWire, you'll be greeted by your activity dashboard and see the status of all claims and assignments under your authority and control. Clicking on any section of the assignment dashboard displays a detailed list of tasks to be performed.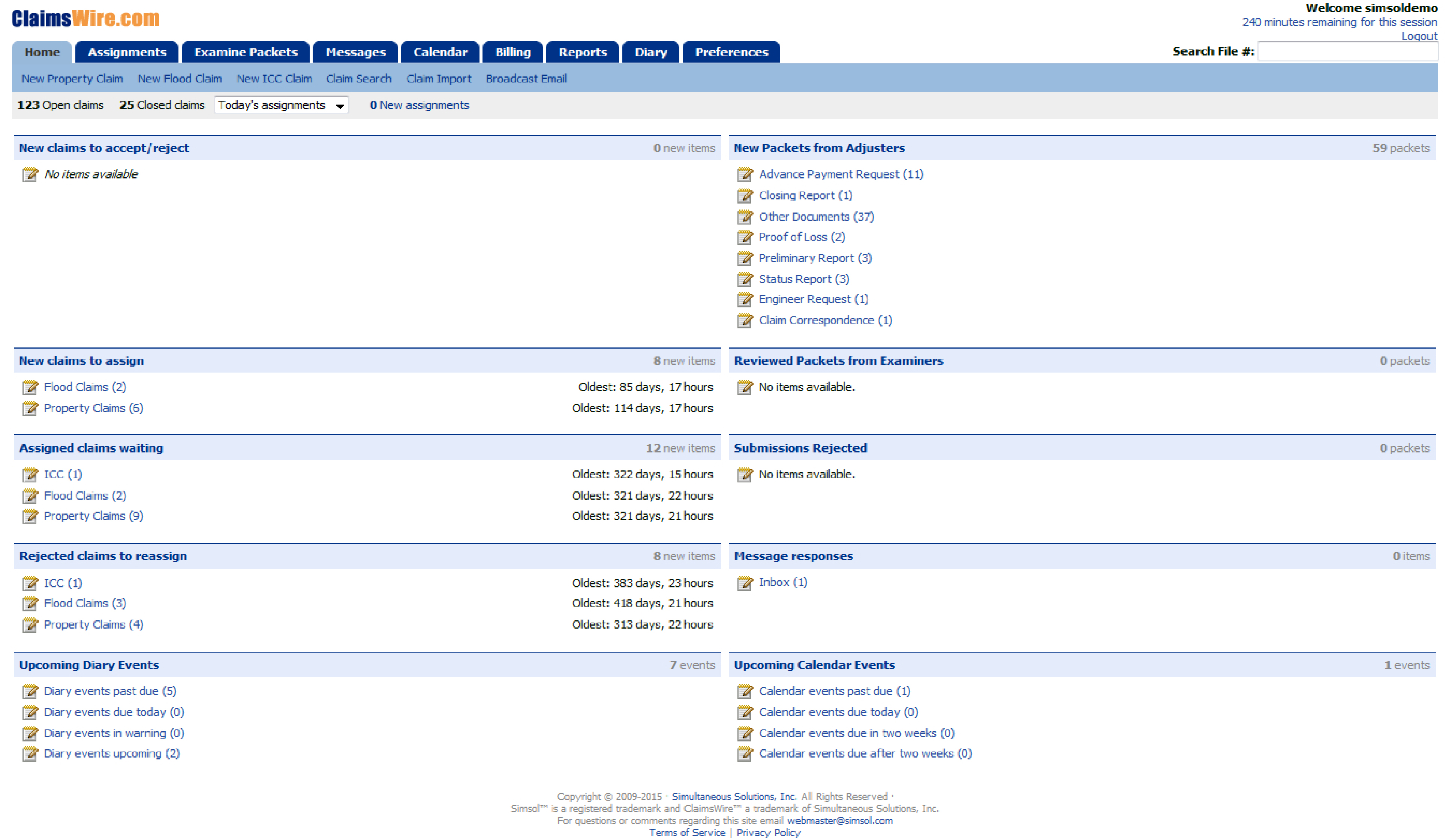 The Mass Assignment Tool
Although ClaimsWire is designed for day-to-day claims and assignments handling, during times of catastrophe the system has powerful tools to handle the additional work load. One example is the Mass Assignment screen. Assign hundreds of claims at a time to adjusters in the field. Claims can be filtered and/or sorted in multiple ways, such as by zip code or claim type, and grouped to fit the abilities of the adjusters assigned to them. Once a claim(s) is assigned to an adjuster, ClaimsWire will email the recipient, alerting them to the fact that they have a new assignment(s) waiting.
Assignments are downloaded directly into the adjusters' Simsol estimating software with all claim, insured and policy information pre-filled for the adjuster. This eliminates the possibility of input errors on the part of the adjuster.
Assignment Download by the Adjuster
Insurance carriers, adjusting firms and contractor networks can create and send loss notices and claim assignments to specific recipients using our Simsol estimating software. Once claim information is completed and ready to be uploaded by the adjuster (Advance Requests, First Reports, Closing Reports, etc.), with a few clicks, a claim data packet is uploaded to ClaimsWire. The packet is reviewed by a claims examiner, routed back to the originator's web service for final review, approval and payment.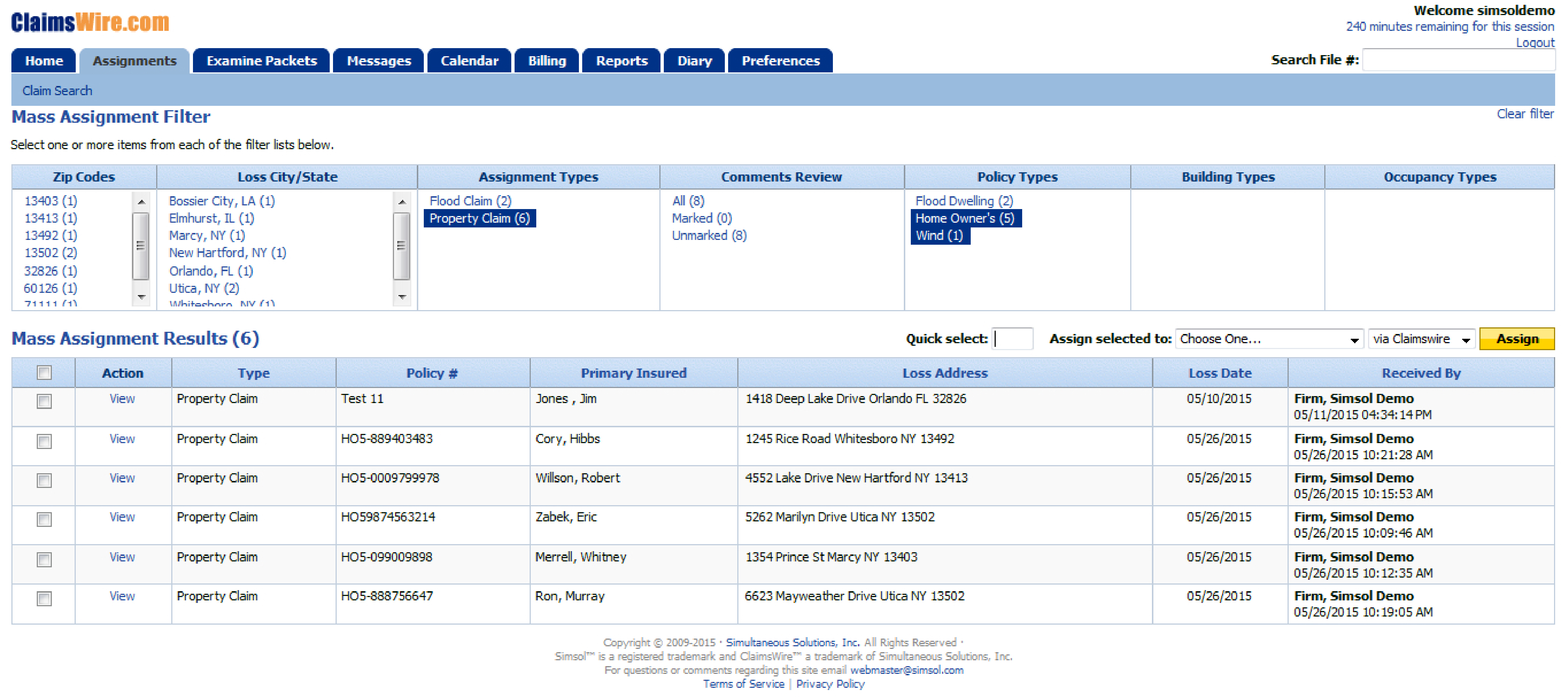 Internal Messaging for Convenience
ClaimsWire's internal messaging feature allows managers and adjusters to stay organized and keep up with all messages and notes history. Message senders can select their entire contact list or select various individuals from their list as message recipients. No more cluttering up your personal email for claim messages and notices with ClaimsWire.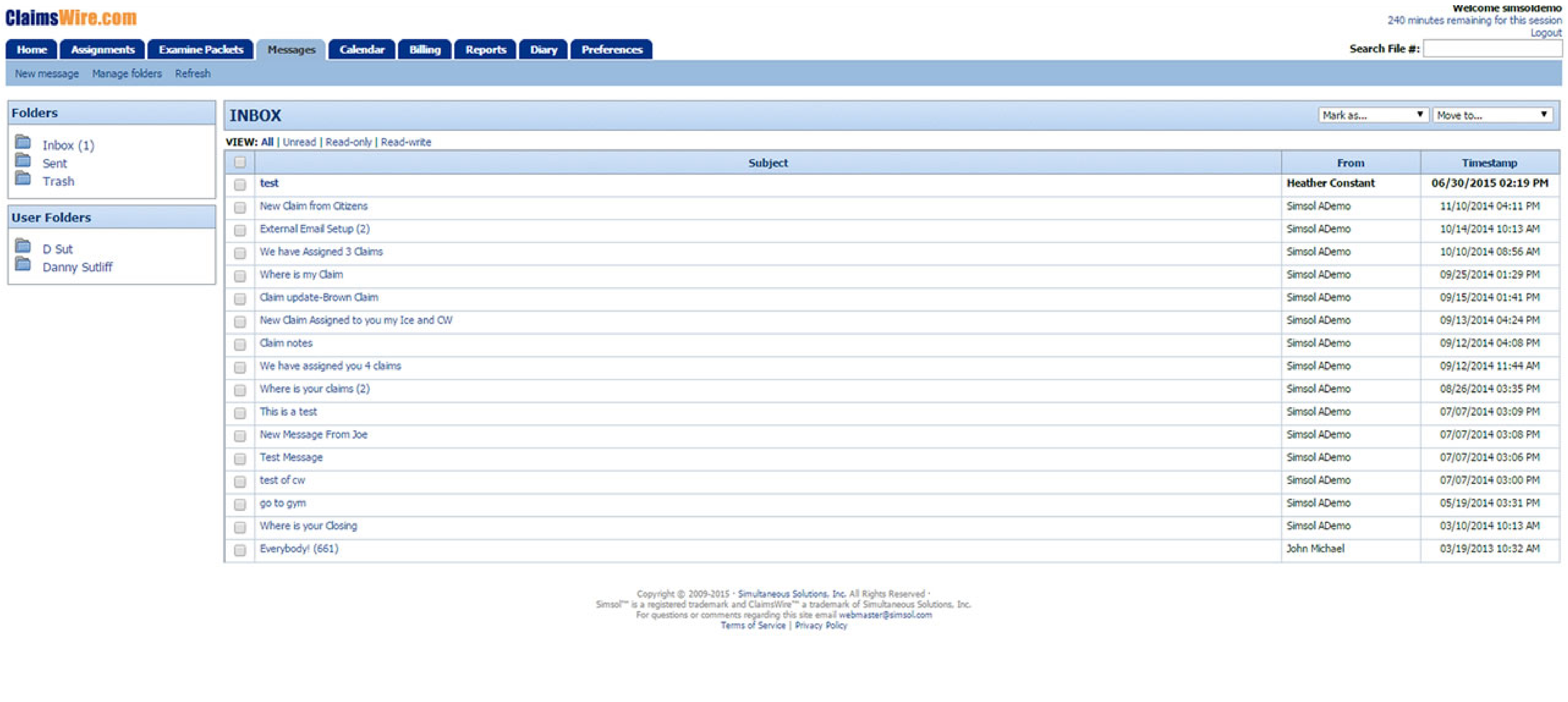 Create Calendar Events with Alerts
Using ClaimsWire's calendar you can set diary events for individual claims and general calendar events with alerts. When a claim is setup, due dates and warning dates can be established for important tasks, such as "contact insured," "submit first notice of loss," or "submit closing report." The alerts will notify the adjuster of upcoming tasks or if tasks are past due. Managers can also be notified if adjusters have tasks that are past due. With the ClaimsWire calendar, you can set up events or tasks with alerts sent to multiple users.

Built-in Billing & Accounting
ClaimsWire makes submitting bills, paying adjusters, and tracking your accounting a breeze. Adjusters using ClaimsWire can submit invoices upon completion of claims, and managers can review, pay and track payments. ClaimsWire also includes the ability to perform batch payments and collections.

ClaimsWire Pricing
There are no upfront costs to integrate ClaimsWire with your current claims processing workflow. ClaimsWire clients are billed quarterly after the first quarter of usage and charged based on the number of claims processed through the system. Pricing for ClaimsWire is $10 per claim with discounts available based on volume.
With the release of Simsol 7.0 you may have noticed a few minor changes to the flow of operations with regard to the ClaimsWire system. Please take a moment to view or download the ClaimsWire Update in PDF with an explanation of the update. If you have any further questions regarding this, or any other feature update, please feel free to contact Simsol Support at 800.447.4676 or contact us through the website.