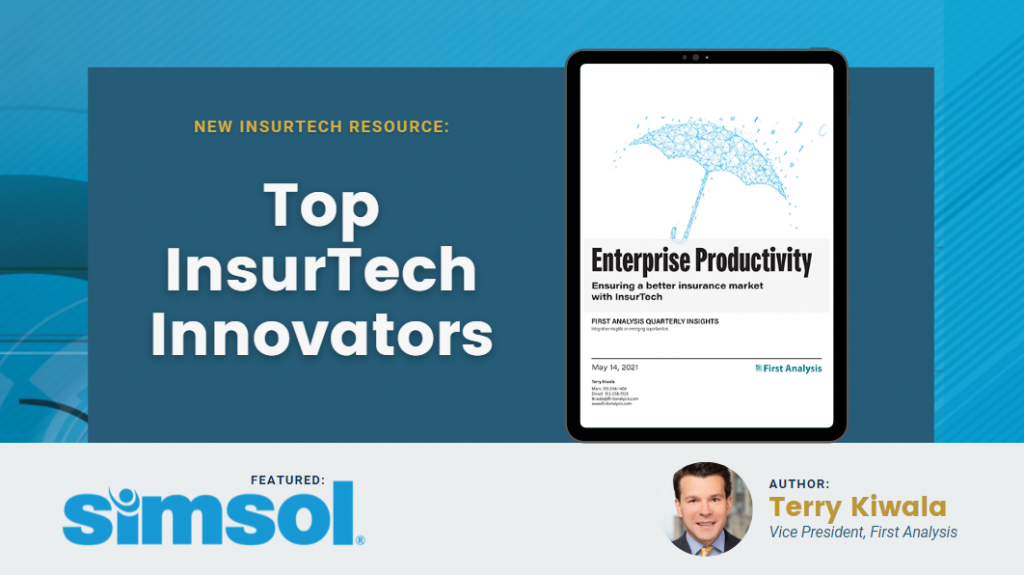 First Analysis' Report on the Top Innovative InsurTech Companies: Simsol Software
June 22, 2021
Simsol Software is proud to be a part of the revolution of the InsurTech Industry. To be an effective leader of change in this movement, we must all stay on top of the trends in the automatization of the field to know where we can make positive impacts. In a recent report, Terry Kiwala from First Analysis profiles over thirty innovative companies driving this transformation – and Simsol has made the list.
Outlined in First Analysis' report, "Simsol streamlines workflow and communications among managers, carriers, and adjusters, importing property characteristic macros and dynamically managing workflow. Its pricing database automates loss estimates by pricing materials based on local market demand. Third-party adjusters can manage photos and use Simsol's sketching tools to develop comprehensive loss estimates. We view Simsol as an important innovator and efficiency enabler whose technology may be adopted by numerous other stakeholders to improve visibility into claims adjudication and the value of underlying collateral."
"We couldn't be more proud of our team at Simsol, and the new innovative product solutions for the Claims Processing Industry to be released soon.", says Karen Palmer, COO of Simsol Software. "We can't wait to share these new tools that will revolutionize the way companies improve their claims process and ultimately help their insureds."
About Simsol Software
Simsol provides software solutions for all aspects of the claims life-cycle. Simsol's suite of claims processing tools allow for a seamless claims experience from the first contact with the insured to closing to reporting on analytics. Since 1989, Simsol Software has been developing easy-to-use, stable, and affordable solutions for the property insurance and construction industry. As pioneers of computer estimating for property adjusters, Simsol was the first vendor to automate all of the most frequently used functions of property adjusting into a single software application. Learn more at www.simsol.com
About the Technology Transformation Outlined by First Analysis
Historically, the insurance industry has been characterized by manual processes, large agent-based sales forces, and slow, arbitrary and contentious claims processing (prompting the infamous industry acronym DDD: "deny, dispute, defend"). While the underlying insurance products are already highly profitable, carriers and administrators increasingly see an opportunity to boost profitability from underwriting and servicing policies by improving operational efficiency and accuracy.
Read the report to see how First Analysis created this Top InsurTech Innovator List:
The link above will redirect you to First Analysis' website where you can fill out a form and receive your free copy.
About the Author:

Terry Kiwala is a vice president specializing in research and investment in software-as-a-service (SaaS) businesses, particularly in enterprise productivity applications. He is a thought leader in his sector, having authored widely read industry research. He uses his industry knowledge and expansive network to uncover promising investment opportunities and help companies navigate their strategic paths and accelerate growth. Prior to joining First Analysis in 2019, he was chief financial officer of Vokal, a software development company, senior vice president at Tribeca Flashpoint Media Arts Academy, and associate vice president at National-Louis University. Earlier, he was an investment banking analyst at Lehman Brothers. He earned a bachelor's degree in economics and government from the University of Notre Dame.
He is a CFA charterholder.